EZcomplete enhancements for segregated fund applications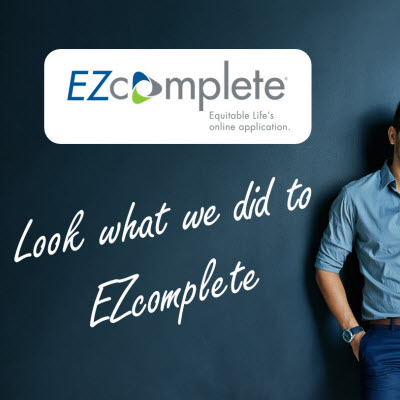 When we launched EZcomplete® for segregated funds back in January we heard a lot of positive comments from our advisors. We also heard that we could do better. So that's just what we did.
1. FUNDSERV CODE
Advisors with an active FundSERV code no longer need to remember to select the FundSERV code when starting a new segregated fund application. EZcomplete will now default to the FundSERV code.

2. LOAN DEPOSIT OPTION
Under the Contributions section of the segregated fund application for Non-registered, TFSA, RSP or Spousal RSP, Loan is now a deposit option under Deposit Types. If Loan is selected, EZcomplete will ask for amount and Lending Company name. Equitable Life® has partnered with B2B Bank to provide investment and RSP loans at competitive rates. Details can be found on EquiNet® under "Loans".

3. LIMITING SUCCESSOR ANNUITANT
Applicable to TFSA, RIF and Spousal RIF applications only, EZcomplete will now use validation to prevent advisors from accidentally naming the same person as both successor annuitant and beneficiary, reducing the instances of "not in good order" applications.

4. ONGOING PAD FUND SELECTION
If Ongoing PAD is selected as a Deposit Type, an advisor can allocate the Ongoing PAD to a fund allocation that is different than the rest of the deposit options.

5. TRANSFER FORM NOTIFICATION
The MGA and advisor confirmation emails now include text to confirm that a Transfer Form has been uploaded and submitted as part of the segregated fund application. This additional information will act as a reminder to the Advisor/MGA to send the Transfer Form to the relinquishing institution.
6. POPULATING FIELDS
Advisors will no longer need to keep entering the same advisor and MGA information on new segregated fund applications. The first time an advisor code is used on an EZcomplete segregated fund application, the advisor will populate all the required fields. Each subsequent time a new segregated fund application is created with the same advisor code, the following fields will pre-populate with the values that were last entered.
a) Advisor Email
b) Dealer/MGA Name
c) Branch Number
d) MGA Email