New segregated fund sales charge option from Equitable Life of Canada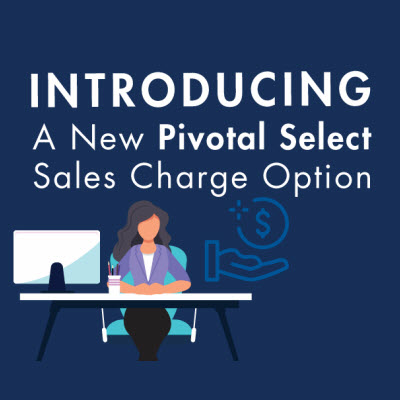 On December 7, 2020 Equitable Life® will add a new No Load CB5 (NL-CB5) sales option with a 60-month chargeback schedule to the Pivotal Select™ segregated funds lineup. This new sales charge option complements the recently launched No Load CB (NL-CB) option which has a 36-month chargeback schedule.
This new sales option for Pivotal Select gives you and your clients five sales charge options to choose from: Low Load (LL), No Load (NL), No Load CB (NL-CB), No Load CB5 (NL-CB5) and Deferred Sales Charge (DSC). The addition of NL-CB5 provides an option for those advisors who want to increase the upfront portion of their commission. The benefit to clients is no Deferred Sales Charge to contend with. If your client chooses to withdraw funds within 5 years after purchase, there is a chargeback of commission to you.
By offering five sales charge options, the choice between three distinct guarantee classes (Investment Class (75/75), Estate Class (75/100) and Protection Class (100/100)), and a diverse selection of investment funds, the Pivotal Select contract provides the flexibility to build an investment solution that meets the needs of your clients.
Need to meet with your client online? Our EZcomplete® application makes it easy to process your non-face-to-face applications and do business with Equitable Life. EZcomplete gives you the option to conduct your non face-to-face business easily and quickly, enabling your clients to provide their signature remotely on their own device.
For more information about Equitable's NL-CB5 or any of Equitable's products, contact your local Regional Investment Sales Manager or our Advisor Services team at 1.866.881.7427 Monday to Friday 8:30 a.m. – 7:30 p.m. ET or email
savingsretirement@equitable.ca
.
To learn more, click here.