100 years strong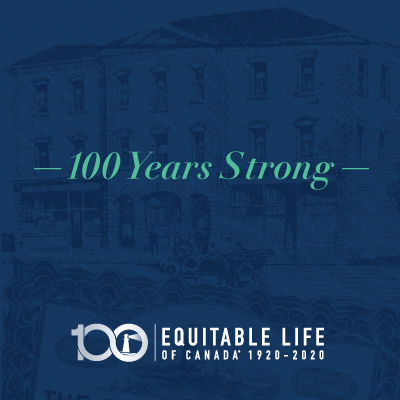 As COVID-19 continues, we want to reassure you that Equitable Life remains financially strong and committed to supporting our clients.
We are financially strong and stable
Our commitment to your health, wealth and overall well-being remains unchanged. This global pandemic has impacted the way we do business, but we continue to focus on our strategic goals while meeting the needs of Canadians. These three factors speak to our financial strength and stability:
• Equitable Life has a global credit rating of 'A' with a positive trend from DBRS Morningstar in recognition of our ability to adapt to the current business environment and prudent risk profile;
• We are maintaining our current dividend scale for the period July 1, 2020 to June 30, 2021; and
• Our Life Insurance Capital Adequacy Test (LICAT) ratio remains well above our goal and the minimum that is required at 152.5% at the close of the first quarter.We pride ourselves on our customer service
Being recognized for its service culture across all lines of business is a point of pride for a company that includes 'customer focus' as one of its three corporate values. In 2019, our dedication to customer service was recognized with these outstanding survey results, proving we have the We have the knowledge, experience and ability to find solutions that work for you:
Equitable Life ranked in the top quartile for segregated fund service in 2019 survey of advisors and MGAs1 ;
In a 2019 survey of customers from 15 life insurance companies,2 Equitable Life ranked #1 on the Net Promoter Score, a measure used across industries to gauge the loyalty of a firm's customer relationships; and
A survey of Group consultants, brokers and third-party administrators 3 ranked Equitable Life in the top two insurers across all categories.
We have adjusted our business to become digital
Since the pandemic began, our IT and operations teams have digitally enhanced more than 20 different processes and services to make it easier for us to integrate with our distribution partners in this new reality. Our sales and customer service teams remain open and available to support you and your customers.

We are here with you and for you
To commemorate our 100th Anniversary this year, we donated $4.5 million to purchase and install a new MRI for Grand River Hospital and, as part of our Equitable Gives Back Contest, we donated $50,000 – $10,000 each – to five charities in British Columbia, Alberta, Manitoba, Ontario and Quebec. As well, we are celebrating by randomly selecting policyholders to receive a $100 and three grand prizes. For more information about our celebrations, check out our website at www.equitable100.ca.

As the global situation continues to evolve, rest assured that Equitable Life is unwavering in our commitments to you and the communities we serve. We are here with you and for you.
1
Life Ops Consulting Group Distribution Service Satisfaction Surveys 2015-2019, Independent Advisors
2
LIMRA CxP Customer Experience Benchmarking Program, Life Insurance In-Force Experience 2019
3
NMG Consulting's Canadian Group Benefits Survey 2019