Easy and convenient digital options for your clients and their members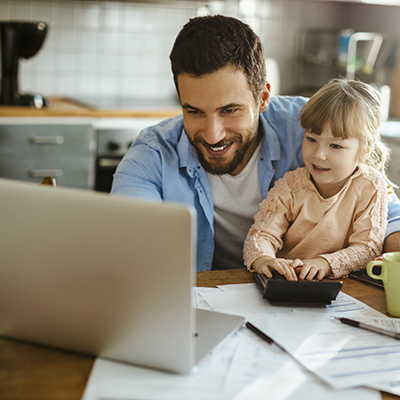 During this time of physical distancing, people are looking for ways to interact with their providers virtually. We have several convenient digital options available to make it easier for Plan Members and for Plan Administrators. Below is an overview to refer to when you're meeting with your clients. Or you can download this PDF version
For Plan Administrators:
Plan Administrator Portal (EquitableHealth.ca)
Our secure portal allows Plan Administrators to easily manage their plan anytime and anywhere. Instead of printing and mailing forms, Plan Administrators can make real-time updates at their convenience. The site also makes it easy to view or upload forms and other important documents, retrieve billing information, estimate monthly premium costs, and view announcements, tips and reminders. Plan Administrators can visit www.equitablehealth.ca to activate their account.
Online Plan Member Enrolment
Our Online Plan Member Enrolment tool simplifies the onboarding process for both Plan Administrators and Plan Members and offers a more secure and efficient alternative to traditional paper enrolment. The user-friendly interface allows Plan Members to easily enrol in their benefits plan in just minutes from their computer or mobile device. That saves work for Plan Administrators by eliminating the need to manage paper forms. And since Plan Members receive automatic reminders, it reduces late applicants and eliminates the need to chase down Plan Members for their paperwork. (This option is currently only available for new clients. It will soon be available for existing clients to add new hires.)
Digital Welcome Kits
Instead of paper kits that can easily get lost or quickly become outdated, Plan Members receive personalized welcome kits via an interactive email, including instructions on how to activate their online group benefits account, download their digital benefits card, submit claims from their computer or mobile device, review their coverage details, and explore their health and wellness resources.
Easy automated payments
Automated payments are a convenient way to avoid missed payments, suspended claims and disruption. Plan Administrators simply need to complete thepre-authorized debit formand send to GroupCollection@equitable.ca. Or contact Group Collections about online banking and electronic funds transfer (EFT).
We can help
For assistance, Plan Administrators can contact their Client Relationship Specialist or our Web Services team at 1.800.265.4556 ext. 283 or groupbenefitsadmin@equitable.ca.
For Plan Members:
Plan Member Portal (EquitableHealth.ca)
By logging into EquitableHealth.ca, Plan Members have secure 24/7 access to their personalized Group Benefits account where they can submit claims, view their claims status and history, and review their coverage details from their computer or mobile device. They can also visit Equitable HealthConnector®, our suite of services to help employees stay healthy and productive. They can simply visit www.equitablehealth.ca to activate their Group Benefits account.
Electronic Claim Payments and Notifications
Once Plan Members have activated their Group Benefits account on EquitableHealth.ca, they can easily get set up to receive their claim payments via direct deposit, and their claim notifications via email. Once logged in they simply click "My Information" and enter the required information.
EZClaim Mobile App
Submitting claims is fast, easy and secure with the Equitable EZClaim® mobile app. Plan Members can submit health and dental claims and receive payments directly to their bank account via direct deposit. Most claims are processed within three business days; some are processed in as little as 24 hours. They simply download the EZClaim app for their iPhone®, or Android™ device, fill out the interactive health or dental claim form, attach their receipt and submit.
Digital Benefits Cards
Instead of digging through their wallets, Plan Members can download a digital version of their benefits card on their mobile device via the Equitable EZClaim® Mobile app to easily provide coverage details to health providers.
We can help
We've created a video guide to help Plan Members access and use their digital resources. For further assistance, Plan Members can contact our Web Services team at 1.800.265.4556 ext. 283 or groupbenefitsadmin@equitable.ca.