Equitable Life Group Benefits Bulletin – November 2020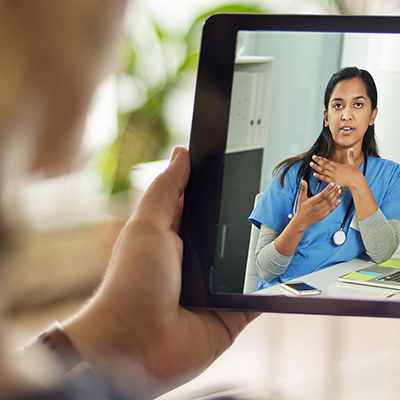 In this issue:
*Indicates content that will be shared with your clients
Telemedicine now included in Travel Assist*
Medical emergencies can be particularly stressful while travelling. Making your way to a medical facility can be a struggle. And once you get there, you could face long wait times, language barriers or even the risk of COVID-19 infection.
That's why Allianz Global Assistance®, our Travel Assist provider, is adding two new virtual care options to provide plan members with timely and appropriate medical support.
As always, when a travel medical emergency strikes, plan members call Allianz for assistance. During the intake process plan members will be guided through a series of questions to triage their unique medical situation. Options for care now include two different virtual care services:
TeleConsultation – Video and chat consultation with a locally licensed physician. This physician can diagnose simple medical conditions and provide a prescription. Available across Canada and in some high travel states in the United States.
TeleAdvice – Video and chat consultation for situations which are not likely to require a prescription. The physician can diagnose simple medical conditions and provide medical guidance.
Plan members who use virtual care may benefit from:
Reduced wait times;
Care from the comfort of their current location;
Reduced language barriers;
No need to arrange transportation to a medical facility;
Reduced impact on travel itinerary; and
Reduced risk of exposure.
Both TeleConsultation and TeleAdvice will be available for all Equitable Life plan members beginning January 1st, 2021. There is no additional cost, no changes required to your client's plans, and no change to the way plan members contact Allianz in the event of a travel medical emergency.
This PDF plan member update will also be included in the eNews to plan administrators.
If you have any questions about these new features, please contact your Equitable Life Group Account Executive or myFlex Sales Manager.
Allianz Global Assistance is a registered business name of AZGA Service Canada Inc. and AZGA Insurance Agency Canada Ltd.
Help your clients take advantage of our convenient digital options*
During this time of physical distancing, people are looking for ways to interact with their providers virtually. We recently enhanced our Online Plan Member Enrolment tool, allowing all groups to add new plan members without the need for paper forms.
Did you know, we have several other digital options available to make it easier for your clients to do business with us and for their plan members to access and use their benefits plan? Over 71% of plan administrators are managing their plan online and 78% of plan members are already using our digital tools.
For plan administrators:
Plan Administrator Portal (EquitableHealth.ca) – plan administrators can easily manage their plan anytime and anywhere
Digital Welcome Kits – personalized welcome kits are delivered to plan members via email
Easy automated payments – plan administrators can avoid missed payments by setting up pre-authorized debit or electronic funds transfer
For plan members:
Plan Member Portal (EquitableHealth.ca) – plan members get secure, 24/7 access to their claims history, coverage details and health and wellness resources
Electronic Claim Payments and Notifications – plan members can get claim updates sooner in their email inbox and payments right into their bank account
EZClaim Mobile App – submitting claims from a mobile device is fast, easy and secure
Digital Benefits Cards – plan members no longer have to dig through their wallet – they can download their benefits card on their mobile device
Learn more about how we're making it easier for your clients to do business with us
2021 changes to Maximum Insurable Earnings, Maximum Weekly Insurable Earnings and Short Term Disability Benefit*
The Canada Employment Insurance Commission and Canada Revenue Agency have announced the 2021 changes to Maximum Insurable Earnings, and premiums for employment insurance. These changes take effect January 1st, 2021.
Maximum Insurable Earnings (MIE)
The MIE will increase from $54,200 to $56,300.
Maximum Weekly Insurable Earnings (MWIE)
The MWIE will increase from $1,042 to $1,083.
EI Benefit (55% of the MWIE, rounded to the nearest dollar)
EI benefit will increase from $573 to $595
Information for Plan sponsors
If your client's Group Policy with Equitable Life includes a Short Term Disability (STD) benefit which is tied to the EI MWIE, and at least one classification of employees has less than a $595 maximum:
To comply with the provisions of their policy, their STD benefit will be revised with the maximums updated based on the percentage of EI MEIW shown in their policy.
The additional premium for any increase from their previous STD amounts and new STD amounts will be show on their January 2021 Group Insurance Billing (as applicable).
If their STD maximum is currently higher than $595 or based on a flat amount (not based on a percentage or regular earnings):
No change will be made to their plan unless otherwise directed.
If your clients wish to provide direction regarding revising their STD maximum, or have questions about the process, they can email Kari Gough, Manager, Group Quotes and Issue.
*Indicates content that will be shared with your clients