Updated Temporary Resident Guidelines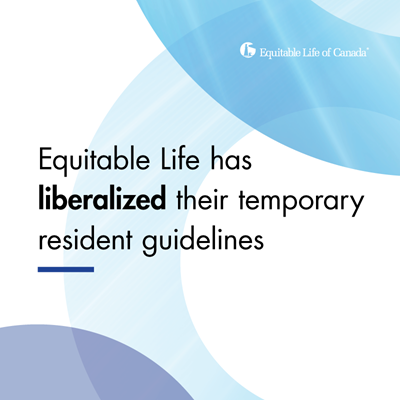 We are excited to announce that we have liberalized our Temporary Resident Guidelines.
● The validity period requirement of the supporting documentation for all Temporary Residents has been lowered to three months
● Student Visa holders attending post secondary educational institutions may qualify for a total coverage of $500,000, and – if employed – even for $1,000,000
We will now ask for the following information:
● Information regarding the educational institution and programme for all amounts over $250,000 (typically includes online validation)
● A maximum of $500,000 may be available for students enrolled in professional programmes, as defined in our Student Financial Guidelines (e.g., medical, law, etc.)
● A maximum of $1,000,000 may be available for students who are legally and gainfully employed. For this, we require proof of current employment and the CRA Notice of Assessment for the previous year. Should both be satisfactory, the allowable face amount will be calculated according to the published Work Permit guidelines. If applying for over $500,000, a minimum one-year period after arrival to Canada is required.
● Students enrolled in elementary or secondary school are eligible for a total coverage of $250,000. Exceptions may apply if the parents are insured or applying for minimum $1,000,000. We will confirm the parents' respective occupations, incomes, and residency statuses
Read more about the details of the changes in the updated Residency Guidelines form
1530
.
Please contact your Regional Sales Manager for more information.