Policy Change eDelivery instructions
E-Signature Process for Life Policy Change
1. How to NavigateYou will receive an e-mail notification when the policy change documents have been issued to begin the e-delivery process.
Once received, please select the 'Log in and acknowledge/e-sign' link to continue:
Each recipient will be required to answer a security question:
The advisor enters their advisor code
The policy owner enters their policy number (in some instances it may be their date of birth in DD/MM/YYYY format)
The MGA enters their MGA code (the answer is case sensitive)
Once answered, please select 'Login' to continue:
Once logged in, you will be required to consent to the 'eSign Disclosure Document'.
Please select 'Accept' to proceed with document review and download:
Please note: MGAs have 'review only' access and are not required to accept the 'eSign Disclosure Document'.
As a workaround, please select 'Next' at the bottom of the document to proceed with contract review:
Documents can be downloaded at anytime prior to, during, or after the signing process by clicking on the down arrow or 'Download All' button: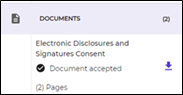 The down arrow allows you to download a specific document, while 'Download All' allows you to download all documents within the package.
2. The DocumentsThe following documents are included in the e-delivery package, but are not required to be signed during the process. However, an acknowledgment is required by clicking on 'Accept':
If the following document is included, it must be signed to continue:
3. How to E-Sign DocumentsPlease review all documents. On the left-hand side of the document, you may select the below icon which indicates that an e-signature is required. Clicking on it will take you directly to the e-signatures:


You should see a 'Sign' label. Please select this icon to continue with the e-signature:


Once e-signed, please select 'Confirm' at the bottom of the document to complete the process:


Once the required acknowledgment/e-signatures have been captured, the following message will appear. Selecting 'Review Documents' will allow you to go back and review/download the documents:


4. E-Signature Completion
Once all the parties have acknowledged/e-signed the documents, an 'Acknowledgment/E-signature has been completed' e-mail will automatically be sent to each party.

It will confirm that all documents have been acknowledged/signed and provide a link to download the documents if this was not done during the e-signing process.


You should download copies of all files and retain them for your records in a secure location.